<![if !vml]>

<![endif]>


The Hank Show
---
"He made me a replica of Hank's suit… the white suit with black musical notes."
By Jay Allen Sanford
Published December 9, 2004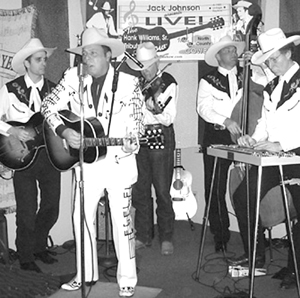 Cowboy Jack Johnson (second from left)
'I've been the Singing Cowboy of Rawhide Ranch for eight years now," says Cowboy Jack Johnson. "That's a dude ranch in Bonsall -- it's been there since the '60s, with Old West facades and stages...kids learn how to take care of and ride horses and stuff. Then, at the big campfire, I sing a bunch of cowboy standards and tell stories about the Old West. I do that most every Saturday night, whenever I'm not booked with one of my band projects."
The longtime San Diegan (since 1968) is also the originator and lead performer of "The Hank Show," which he calls "a re-creation, not a tribute, of the music of Hank Williams, Sr. We've been doing it about six years now, with hits from the width of his career. He recorded from '47 to '53 and we play the songs in chronological order. The band wears vintage smile-pocket Western shirts with hats and ties and we all play instruments accurate to that era." Johnson strums guitar while his bandmates use the same style hollow-body electric guitar, steel guitar, fiddle, and upright bass used by their Sr. inspirations. "My 'Hank suit' was made for me by one of the same guys who tailored Hank's clothes. He's, like, 78 now; he was one of the guys at Nudies Rodeo Tailors [who dressed ZZ Top, among others] and he made me a replica of Hank's suit...the white suit with black musical notes."
Johnson formed another "re-creation" last year called "Band in Black," featuring the music of Johnny Cash. "That band does the same thing -- we dress in black and play vintage gear like an upright bass, the lead guitarist uses a Telecaster, and I have my Martin guitar [Cash owned several Martins]. We cover the late '50s through early '60s, all presented based on research and authentic down to the last detail." The Hank Show appears Saturday, December 11, at Pine Hills Lodge in Julian. Band in Black next performs December 30 at the YMCA Firehouse in La Jolla.
FAVORITE CARTOON CHARACTERS?
1. Road Runner ("I always root for the underdog and the coyote is the ultimate.")
2. Bugs Bunny ("He's debonair and those cartoons have sophistication and wit.")
3. Donald Duck ("You can't understand him -- it's like trying to watch the news, which is the only other TV I watch.")
4. The Three Stooges ("I guess that's a live action cartoon.")
5. Popeye ("That was a modern family. There was Popeye and Olive Oyl and he worked on the docks to support their illegitimate kid, Swee'pea.")
BEST LOCAL ACTS?
1. Hot Rod Lincoln ("They do a great job capturing a vintage sound.")
2. Bastard Sons of Johnny Cash ("Of course I appreciate them.")
3. Eve Selis ("She has originality and a great rock and roll presentation.")
4. Nova Menco ("They do a really different flamenco jazz thing.")
5. Tim Flannery ("He's not a super-polished musician, but his music is honest.")
DESERT ISLAND DISCS?
1. Jazz 98.1 CD Sampler 2005 ("I get that every year -- they always have terrific selections and proceeds go to charities.")
2. Diana Krall, Live in Paris ("I love jazz more than anything.")
3. Norah Jones, Come Away with Me ("She does a Hank Williams, Sr. song on there, 'Cold Cold Heart.'")
4. Ray Charles, Genius Loves Company ("I like what he did with Willie Nelson, 'It Was A Very Good Year.'")
ALL-TIME BEST COWBOY SONGS?
1. "Cool Water" ("By Sons of the Pioneers with Roy Rogers. You don't get more classic than that.")
2. "Happy Trails" ("Roy Rogers's theme -- a great sendoff song I use to end my Cowboy Jack shows.")
3. "Ghost Riders in the Sky" ("The cowboys used to look up at the sky at night and imagine the cloud formations as riding horsemen.")
4. "Home on the Range" ("It captures how peaceful the range can be.")
5. "Ring of Fire" ("It's not really an old classic cowboy song, but it fits perfectly to do around a campfire.")

Music Feature from: ©2004 San Diego Reader.
<![if !vml]>

<![endif]>©2004 San Diego Reader.