Cowboy Jack presents
---
The Shows | The Hank Show | Band In Black | Cowboy Jack | Paniola Jack | North County Cowboys
Calendar of Events | Bio | In the News | Images | Past Performances | References | Email | Contact | Home
---
COWBOY JACK
(Solo Performances)
Click on the first 4 pictures for audio and video clips: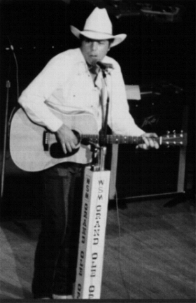 Click here to listen to Cowboy Jack on the Grand Ole Opry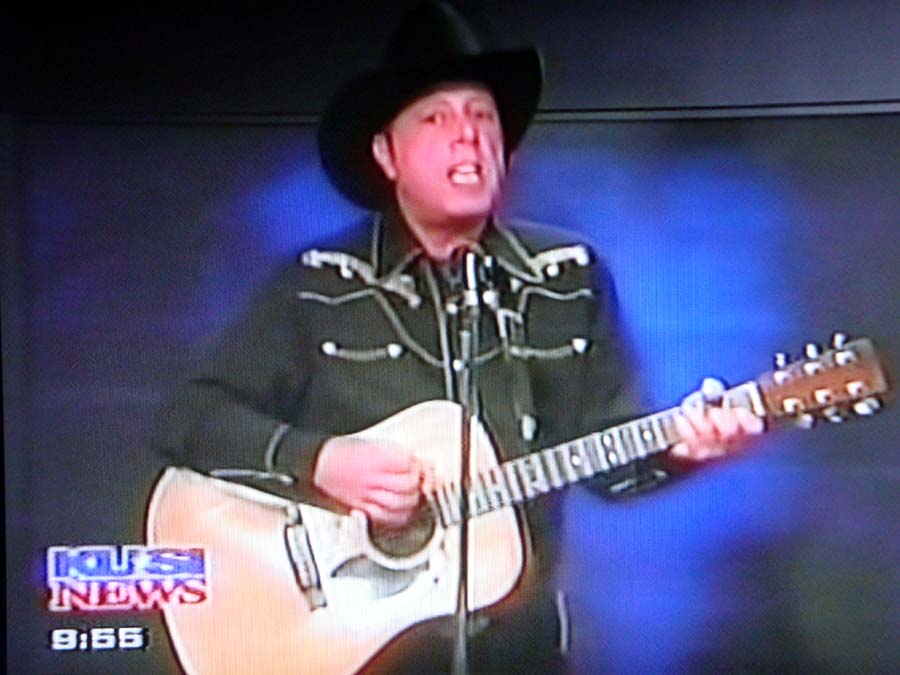 COWBOY JACK singing 'Get Rhythm' on KUSI TV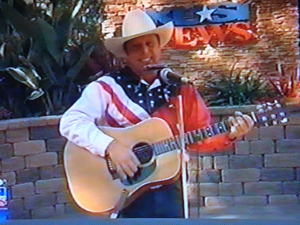 Check out "Cowboy Jack's Back"© on KUSI TV San Diego Ch. 9 / 51
Super Bowl Sunday, February 5, 2012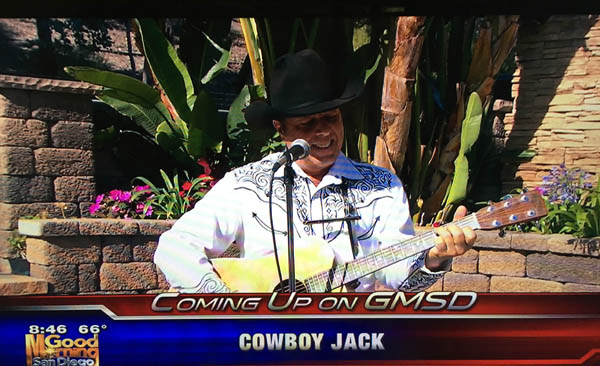 Cowboy Jack on KUSI TV June 17, 2017
"Duelin' Banjos" with reporter commentary CJ KUSI Duelin' Banjos.MOV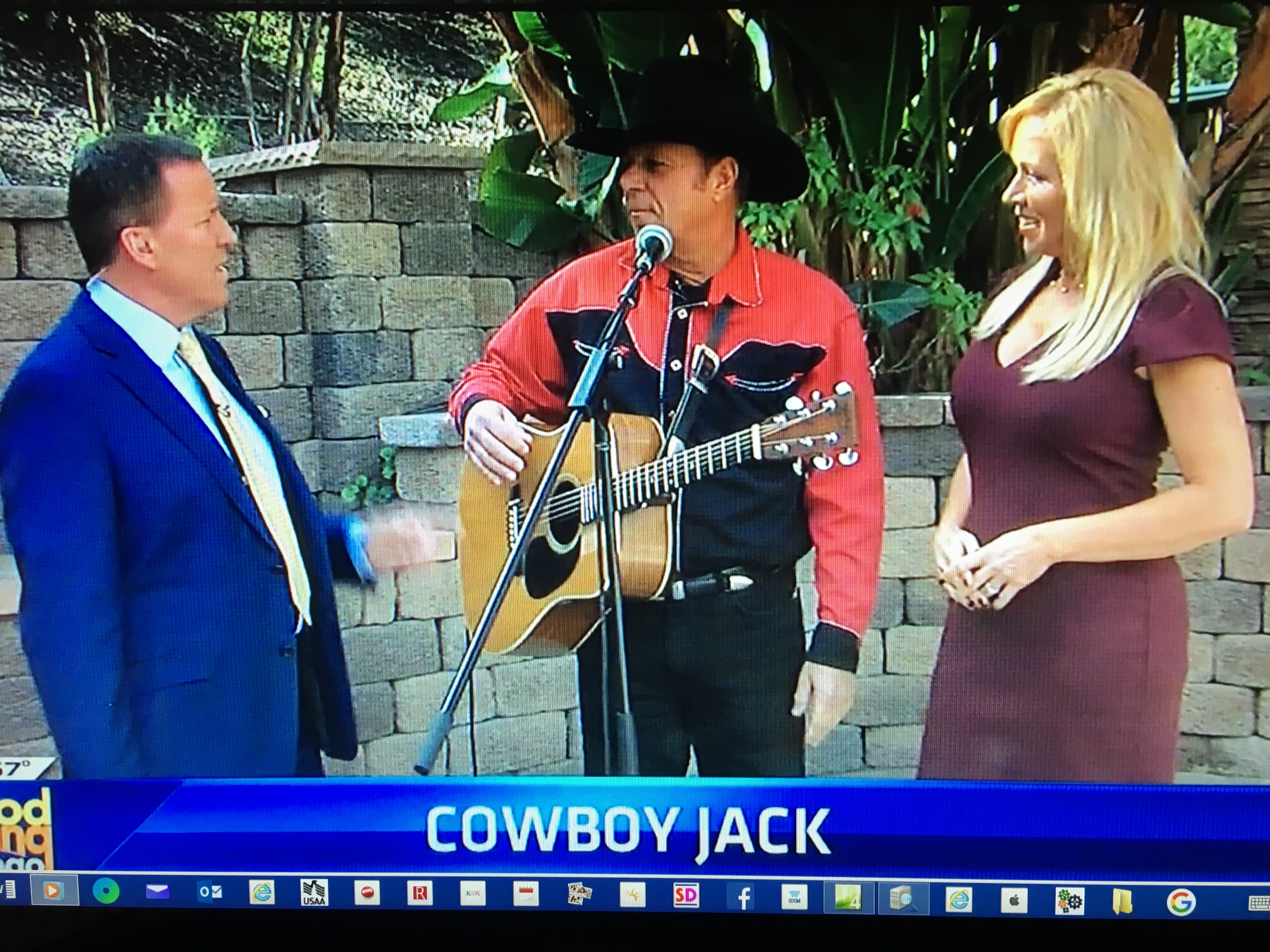 KUSI Hey Good Lookin 2-10-19.MOV
KUSI CJ Interview NC Beach.MOV
https://www.kusi.com/cowboy-jack-performs-live/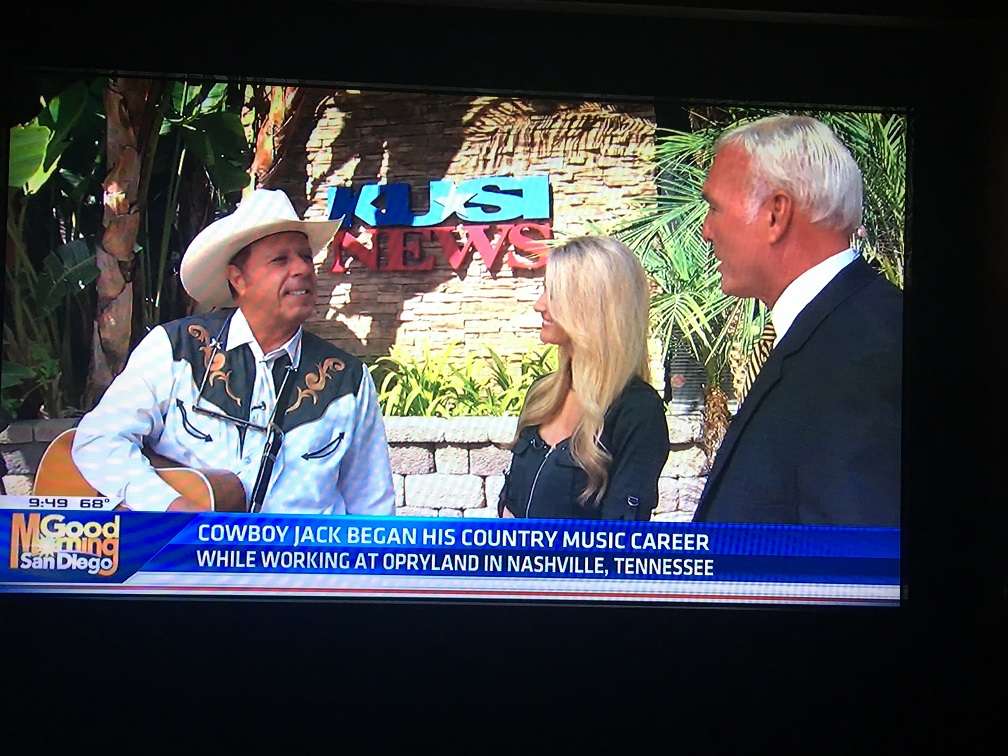 CJ KUSI Interview Jambalaya 8-15-19.MOV
CJ KUSI Interview Ramblin Fever 8-15-19.MOV
COWBOY JACK
on KUSI TV 9/51 San Diego Thursday October 17, 2019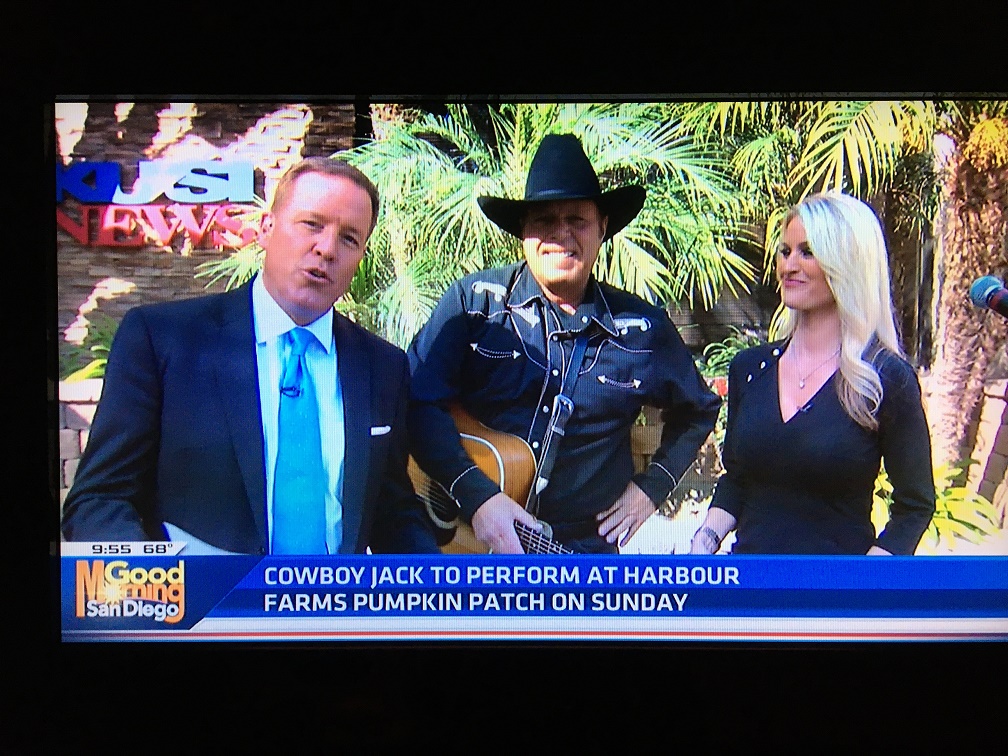 CJ Ghostriders KUSI 10-17-19.MOV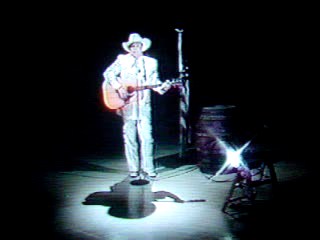 Cowboy Jack solo as
Hank Williams, Sr. on NBC TV
'I'm So Lonesome I Could I Cry'
__________________________
Cowboy Jack on KUSI 9:40am, Friday, November 19, 2021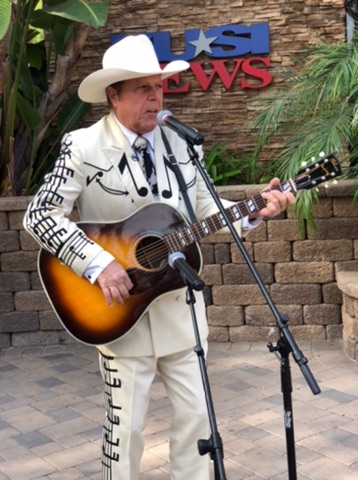 COWBOY JACK on KUSI 10am-11am, Sunday, December 29, 2020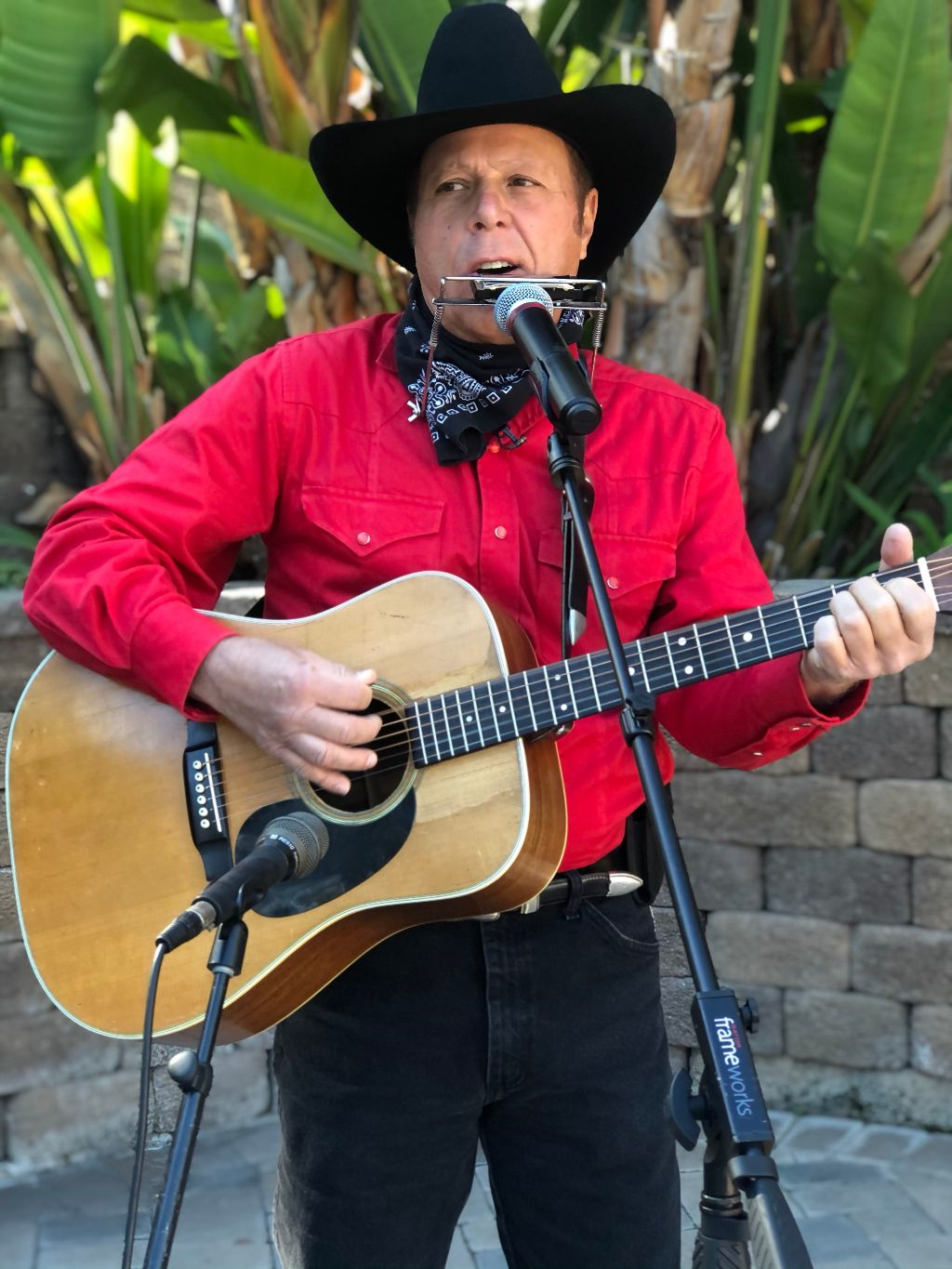 https://www.youtube.com/watch?v=qZt7aR8hW2w
_____________________________________________________________________________
AN AUTHENTIC COUNTRY MUSIC EXPERIENCE -Review
"Cowboy Jack was terrific. Not only was he on time, he showed up ready to go,
the man is a true profesional. He engaged the crowd, didn't play super loud,
played requests, and performed for the entire booking. I would hire Jack again in a heartbeat.
All of the people who attended our Yellowstone themed party really enjoyed Jack.
Thank you for the great time!"
Reviewer: Steven Anderson
Event Date: November 6, 2021
Lake Elsinore, CA
Services Provided: Country Singing Guitarist, Harmonica Player.
Rating: 5 out of 5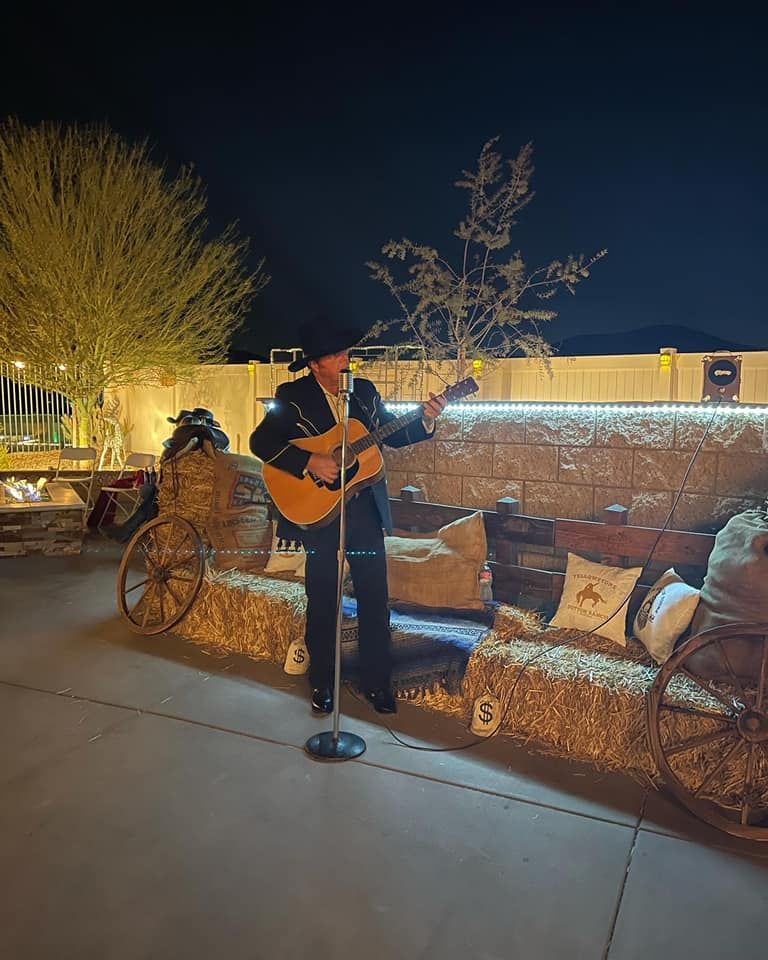 _______________________________________________________________________
Dear Cowboy Jack,

I very much enjoyed your recent show at Robbie's Roadhouse in Encinitas -
particularly the Willie Nelson medley which surprised and pleased me very much.
I have yet to hear a vocalist who can sustain his voice so beautifully to
describe so well a single character for such a duration then switch from
characterization to characterization with such ease and accuracy.

Throughout, you capture the true essence of the voice you tribute. Something of
the man himself comes through in each song. A life in a voice. What a gift!

Your work is brilliantly arranged and played. You have mastered a fine driving
guitar matched by a genuine sweetness in complexity and expression. Your
excellent range reveals an encyclopedic grasp of beloved American songs to
engender a sense of pride paired with wonderful sentiment.

Your blues renditions and improvisations, your harp, come as a delightful
surprise - like icing on the cake! More, please.

You have a compelling stage presence matched by a remarkable congeniality and
genuine approachability. All these are the hallmark of a seasoned,
wholly-professional, well-rounded performer. San Diego is lucky to find you!

Looking forward to hearing you again.

Yours Truly,

Windy Bravo
Encinitas, CA 8-25-13
_________________________________________________________________________________________________
COWBOY JACK 221 Songlist